Simon Oakland
Page last edited 412 days 3 hours ago
From Film, Print, Cards & Games Wiki
Simon Oakland
Born
August 28, 1915
Where
Brooklyn, New York City
New York|, U.S.
Died
August 29, 1983
(aged 68)
Where
Cathedral City|, California, U.S.
Gender
{{{gender}}}
Years Active
{{{years_active}}}
Roles
{{{roles}}}
Parents
{{{parents}}}
Spouse
Lois Porta (?-1983, his death; one child)
Birth Name
{{{birth_name}}}
Occupation
Actor
Appearances
First Appearance: {{{first}}}

Last Appearance: {{{last}}}

Simon Oakland (August 28, 1915 – August 29, 1983) was an American actor of stage, screen, and television.[1] During his career, Oakland performed primarily on television, appearing in over 130 series and made-for-television movies between 1951 and 1983.[2]
Early life and career
[
edit
]
Oakland was born in the Brooklyn borough of New York City, the son of a plasterer and builder Jacob Weiss and his wife Ethel Oaklander.[3][4] While he later claimed in media interviews to have been born in 1922[3][5] (a date repeated in his New York Times obituary),[1][6] Social Security| and death indexes indicate he was born Simon Weiss in 1915; his stage name was likely derived from his mother's maiden name, Oaklander.[7][8][9][10][Note 1]
He began his performing arts career as a musician (he was a violinist,[12] an avocation he would pursue during his entire career as an actor). Oakland began his acting career in the late 1940s. He enjoyed a series of Broadway| hits, including Light Up the Sky, The Shrike| and Inherit the Wind|, and theater was one of his lasting passions. He was a concert violinist until the 1940s.
Moving to films and television
[
edit
]
In 1955 Oakland made his film debut, though uncredited, as a Indiana state trooper in The Desperate Hours|. He next appeared in two films released in 1958: as the character Mavrayek in The Brothers Karamazov| and then in the role of Edward Montgomery| in I Want to Live![13] The character Montgomery was a real-life journalist, who had reported on the California murder trial and 1955 execution of Barbara Graham, played by Susan Hayward in the film. Oakland's portrayal of the journalist as a "tough, but compassionate" personality resulted in the actor often being typecast| in his subsequent roles in both films and on television.
Simon Oakland's notable performance in I Want to Live! led to his playing a long series of tough-guy types, usually in positions of authority, most notably in Psycho|, in which he plays the psychiatrist who explains Norman Bates's multiple personality disorder. He also appeared in West Side Story|, The Sand Pebbles|, Bullitt, and the television series Kolchak: The Night Stalker. He made two guest appearances on CBS's Perry Mason|, both times as the murder victim. He also appeared in the syndicated| crime drama, Decoy|, starring Beverly Garland. Oakland appeared once each on the CBS western, Dundee and the Culhane and in another syndicated crime drama series, Sheriff of Cochise, starring John Bromfield. Oakland played General Thomas Moore on NBC's Baa Baa Black Sheep|, starring Robert Conrad.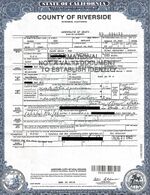 Personal life
[
edit
]
Oakland was married to Lois Lorraine Porta (1918-2003).[5][14] The couple had one daughter, Barbara.[1]
Simon Oakland continued to work to the year of his death. His last credited acting appearance was ironically in the episode "Living and Presumed Dead" on the CBS television series Tucker's Witch.[15] That episode aired just three months before Oakland died of colon cancer in Cathedral City, on August 29, 1983, the day after the actor's 68th birthday.
TV and filmography
[
edit
]
The Desperate Hours| (1955) as State trooper (uncredited)
Sheriff of Cochise in "Question of Honor", season 1, episode 7 (1956) as Charlie Moon
The Brothers Karamazov| (1958) as Mavrayek
I Want to Live! (1958) as Edward S. 'Ed' Montgomery
Have Gun - Will Travel in "The Statue of San Sebastian", season 1, episode 39 (1958) as Sancho Fernandez
Adventures in Paradise| (1959-1962) as Martin / John Briggs / Red Mulligan / and McGraw
The Alaskans in "Doc Booker" (1959) as Doc Booker
The Rise and Fall of Legs Diamond (1960) as Lt. Moody
Perry Mason| (1960-1961) as Capt. Mike Caldwell / Howard Walters
Laramie| in "Ride or Die" (1960) as fugitive Vernon Kane
Who Was That Lady? (1960) as Belka
Psycho| (1960), as Dr. Fred Richmond, the psychiatrist who explains Norman Bates' case
Murder Inc.| (1960) as Det. Sgt. William Tobin
The Twilight Zone| episodes "The Rip Van Winkle Caper" and "The Thirty-Fathom Grave" (the original series, hosted by Rod Serling). (1961-1963) as Captain Beecham / De Cruz
West Side Story| (1961), as Lt. Schrank, a neighborhood police lieutenant
Route 66| in "To Walk With the Serpent" (1962) as Ben Newcombe
Bus Stop|, in "Cry to Heaven" (1962) as Sgt. Brokaw
Tales of Wells Fargo, in "Portrait of Teresa" (1962) as Poderio
Cain's Hundred in "The New Order" (1962) as Walter Hayes
Follow That Dream (1962) as Nick
Third of a Man (1962) as Doon
Ben Casey, in "When You See an Evil Man" (1962) as Jake
Hemingway's Adventures of a Young Man (1962) as Joe Boulton
Car 54, as Secret Service| in "Hail to the Chief" (1962) as Agent Cordner
The Untouchables| (1962–1963) as Russ Bogan / Pete 'The Persuader' Kalmisky / Joe Palakopolous aka Mr. Pal
Bonanza (1963-1969) as Judge Seth Tabor / Frank Scott / Mel Barnes / William Poole
Combat! in "The Old Men" (1963-1965) as Sgt. Tom Akers / Pvt. Clawson
Stoney Burke| in "Image of Glory" (1963) as Sam Hagen
Rawhide| in episode "Incident of the Travelin' Man" (1963)
Wall of Noise (1963) as Johnny Papadakis
My Favorite Martian in season 1, episode 1, "My Favorite Martian" (1963) as Lt. Murphy
The Raiders| (1963) as Sgt. Austin Tremaine
The Outer Limits| in episode "Second Chance|" (1964) as Empyrian
Mr. Novak in "With a Hammer in His Hand, Lord, Lord!" (1964) as Carl Green
Mr. Broadway in episode "Try to Find a Spy" with Barbara Feldon (1964) as Shaw
The Reporter| in series finale "Vote for Murder" (1964) as Det. Lt. Gene Gordon
Daniel Boone| (1965-1969) as Bickford / General James Wilkerson / Dull Knife
The Satan Bug (1965) as Tasserly
Get Smart (1965) as Cowboy
Gunsmoke in "Overland Express" (1958, season 3, episode 38) as Jim Nation, and in "The Hostage" (1965, season 11, episode 12) as Carl Mandee
The Plainsman| (1966) as Chief Black Kettle
The Sand Pebbles| (1966) as the sailor Stawski
Mission: Impossible in episode "The Frame" (1967) as Jack Wellman
Tony Rome (1967) as Rudy Kosterman
Chubasco| (1968) as Laurindo
Hawaii Five-O, "Strangers in Our Own Land", season 1, episode 2 (1968) as Benny Kalua / Frank Epstein / Mauritany / Shako / Mendoza
It Takes A Thief| (in 1968 episode "A Very Warm Reception") as Col. Savrille
Bullitt (1968) as Captain Sam Bennett
The Wild Wild West TV series in "The Night of the Fugitives" (1968) as Diamond Dave Desmond
The Big Valley in episode "The Secret" (1969) as Adam Howard
Ironside| (1969-1973) as Mel Grayson / Theodore 'Ted' Berringer, Sr. / Elton Ferris
On a Clear Day You Can See Forever| (1970) as Dr. Conrad Fuller
Hawaii Five-O, "Reunion", season 2 episode 8 (1970) as Frank Epstein
Scandalous John (1971) as Barton Whittaker
The Hunting Party| (1971) as Matthew Gunn
The Night Stalker| (1972) as Vincenzo
Chato's Land (1972) as Jubal Hooker
The Night Strangler| (1973) as Tony Vincenzo
Emperor of the North (1973) as Policeman
Happy Mother's Day (1973) as Sheriff Roy
The Starlost in "And Only Man is Vile", episode 6 (1973) as Dr. Asgard
Toma| (1973) as Inspector Spooner
Kolchak: The Night Stalker (1974) as Tony Vincenzo
Ellery Queen| (1975) as Norris Wentworth
Baa Baa Black Sheep| (1976–1978) as Brig. Gen. Thomas Moore
Gibbsville| in season 1, episode 4, All the Young Girls" (1976) as Chapman
The Feather and Father Gang in "The Big Frame", season 1, episode 14 (1977)
David Cassidy - Man Undercover (1978–1979) as Sgt. Abrams / Lt. Abrams
Evening in Byzantium (1978) as Walter Klein
The Rockford Filesin 4 episodes over 3 seasons (1977–1979) as Vern St. Cloud
Charlie's Angels (1980) as Sgt. Shanks
Quincy (1978–82) as U.S. Sen. Reeves / Keith Zagner / Chick Thomas / Sal Jarrett
The Littlest Hobo, season 3, episode 13 (1982) as Tom Beecher
Tucker's Witch in "Living and Presumed Dead", season 1, episode 11 (1983) as Daniel Gorman (final screen role)
References
[
edit
]
External links
[
edit
]
Category:1915 births Category:1983 deaths Category:American people of Jewish descent Category:American male film actors Category:American male stage actors Category:American male television actors Category:Deaths from cancer in California Category:Deaths from colorectal cancer Category:People from Brooklyn Category:Male actors from New York City Category:Male actors from Los Angeles Category:20th-century American male actors Category:Age controversies Category:Western (genre) television actors
Cite error: <ref> tags exist for a group named "Note", but no corresponding <references group="Note"/> tag was found, or a closing </ref> is missing
This page was last edited on 7 May 2017, at 07:11.