The Munsters' Revenge
Page last edited 441 days 18 hours ago
From Film, Print, Cards & Games Wiki
The Munsters' Revenge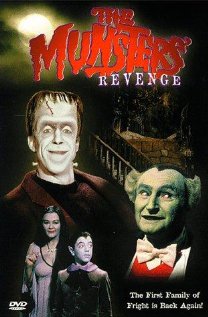 Production
The Munsters' Revenge was a made for TV movie made in 1981 about The Munsters by Universal. It had the three original Munsters actors Fred Gwynne, Al Lewis, and Yvonne De Carlo.
Herman Munster and his family visit a Wax Museum and find that there are wax figures of themselves, except Marilyn, in the museum. Herman and Grandpa are then accused of many crimes that they didn't commit (the wax figures did them).
While trying to clear their names, Herman and Grandpa discover that the wax figures are really robots. An ancient Egyptian prince plans to use the robots to steal a mummy's treasure.
Herman and Grandpa foil the plot with help from Marilyn, her new boyfriend, and cousin Phantom of the Opera.
Gallery
[
edit
]
Cousin Phantom of the Opera.jpg

Cousin Phantom of the Opera

The Munsters Revenge Trailer

The Munsters Revenge Full Movie